Drummond Islands Premier Vacation Rental:

The Bayside Eight - Blue Marlin Cabin
The
Blue Marlin

Bayside Eight
offers you the very best in Drummond Island vacation rentals, allowing you to enjoy all the majestic beauty of Michigan's Upper Peninsula in style and comfort.
Welcome to Drummond Island. Coined the gem of Michigan and the Great Lakes it is the largest freshwater island in the United States. A rather exclusive place, Drummond Isle can only be accessed by car ferry, boat or plane. A friendly laid back environment where everyone waves at passersby and wildlife and residents share the pristine Northern Michigan outdoors.
Nested at the heart of Drummond Island is the world-class Drummond Island Resort and Conference Center. Within this sprawling 2,000+ acre resort complex our Bayside Eight Blue Marlin Cabin awaits you. Available for rental by the day or by the week our cabin offers luxurious accommodations with a rustic Up North appeal and a million dollar lakeside view of beautiful Pottoganising Bay and the surrounding islands of Northern Lake Huron and Canada.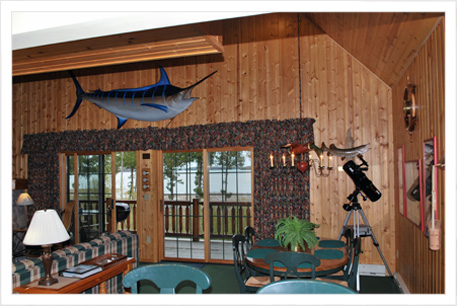 Drummond Island
sites & entertainment
---
The
Blue Marlin

Bayside Eight
offers you the very best in Drummond Island vacation rentals. Featuring kayaks, tennis, volleyball, swimming and a whole lot more!  There is something for everyone to enjoy when you experience Drummond Islands majestic beauty, and staying at the
Blue Marlin
puts you in the heart of it all! Read a full listing of available sites and activities.
[button link="/features" type="primary" label="Resort Features"]
Blue Marlin Cabin
Amenities
Accommodations For Up To Six

Luxury two bed room, two bath accommodations for up to 6 with a master suite that features a jacuzzi tub.

Fully Furnished Kitchen & Dining Area

Fully furnished kitchen with dishwasher, bar, and dining area for your enjoyment and convenience.

Large Wooden Deck

Double glass sliding doors lead to a large wooden deck facing north to the bay and northern lights in the evening.

Speed Boat Rental

22′ Bayliner luxury day cruiser available for Blue Marlin guests for rental at  preferred rates at Drummond Island Yacht Haven

House Keeping and Maintenance

Daily maid, linen, garbage service provided Blue Marlin guests
First of all thanks a lot for checking out the website! We are here to help so if you have any questions for us about staying at the Bayside Eight – Blue Marlin please let us know, and we'll get back to promptly!